Mtevino's Hospitality Direction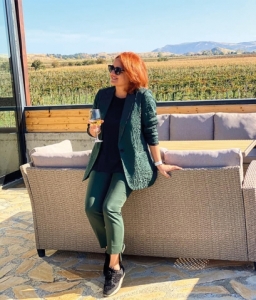 Winery Mtevino is a new wine production company located in the village of Khashmi, Sagarejo district, Kakheti region.
In addition to wine production, Mtevino also has a hospitality direction - a hotel, a wine veranda, a tourist area for culinary masterclasses, a meeting room, and a wine shop.
Winery Mtevino's HoReCa (hotel/restaurant/café) direction started operating in June 2020, after the removal of regulations made it possible to open hotels and cafes-restaurants.
In Khashmi, in a quiet and beautiful environment surrounded by vineyards, is Hotel Mtevino, which has five very comfortable rooms. The rooms offer views of the vineyards and mountains and are equipped with all the necessary items and facilities to make the guest's stay perfect.
Hotel guests have the opportunity to relax in the space and enjoy delicious wines with Georgian-European and traditional Kakhetian dishes.
The tourist area a place for winemaking in the Mtevino area, where any guest has the opportunity to taste Mtevino wines, participate in culinary masterclasses: bake Shoti bread, make khinkali, roast Mtsvadi (Georgian barbecue) and make churchkhela.
The meeting room is designed for 20 people and is ready to host any kind of business or corporate meeting, seminar or and workshop.
The wine shop in Mtevino offers a variety of wine choices to guests visiting Khashmi. It is possible to buy Mtevino wine on the spot.
2020 has been quite productive. Mtevino hosted a lot of guests at the hotel, with a maximum stay of three nights. Many holidays were celebrated on the wine veranda - celebrations, weddings, corporate events, and birthdays.
Autumn was especially busy in Mtevino. The harvest began mid-September, and the vineyard received lots of guests - family, friends, and schoolchildren, who picked grapes, baked bread, made churchkhela and had a very exciting few days.
The Mtevino team also organized conferences, workshops, team building, various tours, etc.
"2020 was a very difficult year for our country. Yet, despite the constant change of regulations, we were able to fully comply with the rules and to host many guests, offering the highest quality service, and a warm and family environment. Mtevino has been discovered and loved by many people in just a few months, who often visit our spaces for a second and third time.
"We think that 2020, despite the difficult challenges, turned out to be quite interesting and important for Mtevino," note the representatives of the brand.
Natia JiJiashvili – HoReCa Business Development Manager
24 December 2020 19:40