Prospering in the Pandemic: Meet the Georgian AzimutBenetti Group Team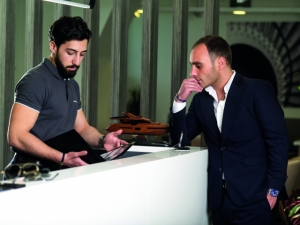 INTERVIEW
With over 50 years of history, the AzimutBenetti group has been recognized worldwide as the leading yacht-manufacturing company. Established in 1969 by Paolo Vitelli, the company continues to push the boundaries of quality, design and performance. AzimutBenetti has always had novelty as part of its heritage.
One factor behind the company's success has been its intent to strengthen its global yachting network, with a record number of 70 sales and assistance offices worldwide. After entering the Georgian market in 2018 with the name Azimut Yachts Georgia, the company's services became available in Georgia's charming seaside town of Batumi. In a dismal year for most companies, AzimutBenetti belongs to the minority that have found themselves booming.
To understand how the company has dealt with the current crisis, GEORGIA TODAY spoke with Giorgi Chikvaidze, the Regional Director of Azimut Yachts Georgia, and Irakli Papiashvili, the Deputy CEO of the company.
HOW HAS THE CORONAVIRUS PANDEMIC AFFECTED THE YACHTING INDUSTRY, AND AZIMUT YACHTS IN PARTICULAR?
We're lucky to be one of those few companies from around the world that were able to boost the production and sales of their products. During the pandemic, Azimut Yachts Georgia has seen yacht sales increase signifi cantly, and Georgia has shown an abnormally augmented interest in the yachting industry in general. I think this is largely due to the rising number of people seeing boating as a way to enjoy the outdoors while avoiding the crowds and interaction. Isolating with one's loved ones on a yacht has never been more appealing.
We've been busy with many things. Azimut Yachts has recently manufactured three new yachts, and a short fi lm was made dedicated to Azimut Yachts and one of our new models, the Magellano 25 Metri. The film is directed by Gabriele Muccino, one of the most talented and renowned directors of our era.
In order to support our customers in times of such crisis, we've been selling yachts at net prices. Our priority is to ensure the flourishing of the industry in Georgia; monetary gain can never overpower such values. It is far easier to purchase yachts in Georgia than, for instance, in Europe and America; this is due to the unique government decree that frees the industry from tax levies.
During the pandemic, our company won three international prizes in the realms of design and technology. And I want to mention another vital development: Our company is also involved in designing modern, European-standard villas. Azimut Yachts recently created a subsidiary company, Ramses Development, which will offer fully equipped, modern villas, starting June 2021. This first project is located in Saguramo and is called Ramses Villas. We do our best to support our clients in this project too, with the prices of our first villas set to be astonishingly low.
WHAT ARE THE CORE VALUES THAT AZIMUT YACHTS UPHOLDS?
The Italian yachting industry is a production sector of quality and excellence, recognized worldwide. Azimut Yachts embraces professionalism and seeks perfection, with values including maximizing product quality, going the extra mile to gratify clients, maintaining workplace safety, and safeguarding the environment through the adoption of eco-friendly technology, to name a few.
WHAT OTHER FEATURES MAKE AZIMUTBENETTI YACHTS STAND OUT FROM THE REST?
Many of our latest models have been designed by Alberto Mancini, whose craft is unrivaled in the world of superyachts. Mancini recently won an international competition for superyacht designers. The Magellano 25 Metri that we mentioned earlier is a unique yacht, an object of timeless beauty, far removed from passing fashions and trends. A yacht which, thanks to the brilliance of its designers Vincenzo De Cotiis and Ken Freivokh, is a truly special object.
We recently started collaborating with such cherished designers as Fendi and Giorgio Armani, who will design interiors for our new models. To support our clients, we decided to maintain the usual prices for such yachts. Yachts sold by our company are 2020 models, offering customers maximum comfort, and maximum relaxation at sea. With many years' experience, our designers undertake projects of high standards that stand out for their quality and architectural harmony. We're also actively collaborating with banks to offer practically zero-interest loans to our clients.
WHAT ARE YOUR PLANS FOR THE FUTURE?
In January, we plan to present one of our new compact models, the Flybridge 58. The state-of-the-art technology and comfort inside the 16-meter yacht's superstructure is sure to leave clients amazed. The model's air filtration system is so advanced that it even tackles the spread of viruses; we bought this high-end technology from NASA.
One area of the yachting industry that was up-ended due to COVID-19 was the festivals, such as the Cannes Yachting Festival, which were unfortunately cancelled. But the good news is that the Dusseldorf Boat Show will still be held and has been postponed for April 17th. We'll host people at the festival, and present our latest models. All interested persons have to register for the event beforehand.
Azimut Yachts is also preparing for big marketing events that aim to raise awareness of the benefits of the industry's flourishing for Georgia's overall economic welfare. Georgia is now beginning to see its maritime sector as the backbone of international trade and global markets for economic growth, something which promises huge possibilities for the country.
BY ELENE DZEBISASHVILI
28 December 2020 11:04