New Textile Factory in Rustavi to Provide 4000 Jobs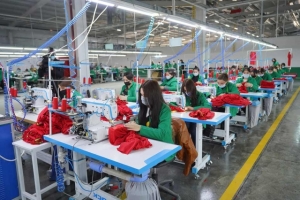 "Not only the creation of new jobs, but the maintenance of current ones is the prime task of the Government of Georgia nowadays," announced Giorgi Gakharia, Prime Minister of Georgia when delivering his speech at the official launch of the Georgian Textile in Rustavi today.
He noted that 4000 residents of Rustavi will be working at the enterprise by the end of the next year.
"This enterprise was constructed during 4 months. When we visited the site in July, global pandemic was at its peak and we decided together with the investor, Ministry of Economy and Produce in Georgia to complete this project in exactly 4 months and first employees from Rustavi to get jobs here in 4 months, i.e. before the year would end, which we are witnessing today. First of all, I wish to congratulate those, who will be working here, investor and team of the Produce in Georgia for making this project happen in challenging times. We all need to understand it well that our current attitude to businesses and investors need to be absolutely new and different as each job is highly valued for the country nowadays. Not only the creation of new jobs, but maintenance of current ones is the prime task of the Government of Georgia nowadays. Thus, I wish to thank the investor, team of the Produce in Georgia for making this project happen. Georgian Textile is a continuation of the large initiative, which is being carried out by investors of Adjara Textile in Georgia. It is already the fourth enterprise in the country and we should all understand it well that by the end of the next year it will employee 4 000 residents of Rustavi. Our task, shared by all of us, is to support such investors in creating such enterprises in every manner possible," noted Giorgi Gakharia.
Prime Minister stressed that the pandemic, being a global challenge, and economic crisis will remain with us for quite some time.
"We all need to acknowledge the achievements that we have achieved. For instance, in the last 2 weeks, basic precision-targeted restrictions led to the stability of the community transfer rate and its further decline. I wish to thank every citizen of the country for this support, for proper understanding and compliance with COVD restrictions, as it has enabled us to have 1000-1500 cases a day, while having almost 5000 a month ago. Most important of all is that we should understand the direct linkage between compliance with basic, simple rules and maintenance of jobs. The more people wear facemasks, the more jobs will be maintained. The more people adhere to basic rules of epidemiologists, the quicker will the economy of Georgia recover. This is our ultimate goal.
"Apart from thanking our businesses, I wish to express my gratitude to investors and urge everyone to adjust to a new, different setting. Post-COVID economic recovery and economy will be completely different. Unfortunately, ordering any commodity from different continents to Georgia has often become simpler than ordering them online from a corner shop and expecting a simpler delivery.
"Hence, we all - Government and businesses - need to revisit everything and our key goal should be to maintain jobs and create new ones. Ultimately, our overarching goal is to ensure the welfare of each single citizen of the country. We need to overcome this crisis - epidemic, pandemic and economic hardship - together," added the Head of Government of Georgia.
A new enterprise of the Georgian Textile was visited by the Prime Minister of Georgia together with Natia Turnava, Minister of Economy and Sustainable Development of Georgia.
Enterprise was incorporated with a Turkish investment and intends to employ 4 000 people from Rustavi and Gardabani. It is worth noting that 90% of employees are women.
The state has allocated land with its constructions and buildings to the Georgian Textile for establishing a sewing factory with a symbolic price of 1 GEL. The company is a beneficiary of the state-supported program of Produce in Georgia. Investment of 20 MLN GEL has been made into the construction of the enterprise, out of which 10 MLN GEL is a loan obtained through the program of Produce in Georgia.
Adjara Textile has been cooperating with world-known brands for years and has been inter alia commissioned by Nike, ADIDAS, Lotto, Erima, New Balance and Under Armour. All 100% of the company output is export-oriented and over 15 000 000 items are annually produced and exported.
28 December 2020 18:21