Noxtton, Data Driven Marketing Pioneer in Georgia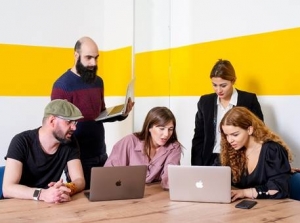 Noxtton currently manages the audience of 3.5 Million individuals on mainstream social media platforms and generates avg. 12-15 Million engagements on weekly bases.
Company analyses the thematic narratives and cluster relative audiences, based on their interests, preferences and social outreach. Currently, Noxtton has access to one of the largest collections of constantly updated audience pools, covering more than 1000 topics and areas of interest.
Through the data-driven insights, Noxtton's team of digital analysts and advertisers help their clients accomplish designated organizational and strategic objectives.
"Our approach is somewhat extraordinary when it comes to digital marketing. We tend to focus more on the analytics and data points, rather than content creativity. Whether you're launching an entirely new product, a new feature or just a seasonal campaign, it requires a combination of data collection and analysis strategies, audience mapping procedures, and swift communication delivery options and that's exactly what we are best at," says Tatia Koberidze, account manager.
Noxtton helps clients to reach the maximum audience, be seen by millions, and maximize return on investment. However, the company does not participate in the creative process of customer organizations.
"Our team gains deep insight into what the target audience truly desires and how could these desires be fulfilled and attained by the organizations," says Elene Tarkhnishvili, account manager at Noxtton.
Noxtton uses a differentiated approach, which allows them to work on ambitious projects and compete in the market with other digital service providers.
"It was the first time in Georgia that one of the media companies, which has massive digital resources, decided to use outsourcing for data analytics and KPI. As we are a pioneer in digital analysis, this company partnered with us. It was unprecedented on the Georgian market," says Beka Kaplanishvili, Chief Advertising Officer.
As the awareness of the data importance grows, businesses realize the significance of data analytics.
"On the Georgian market, we were the first company, whose approach is to blend traditional data mining methods with sophisticated analyses and marketing techniques to identify trends, data point shifts, generate recommendations and to identify potential interests through the 'social listening', says Valer Zirakashvili, partner of Noxtton.
However, the story of Noxtton does not end here. Currently, the company is developing it's own tools with unique features, which might become available to public in the future.
30 December 2020 16:45