Georgia Reports 1527 New Cases of Coronavirus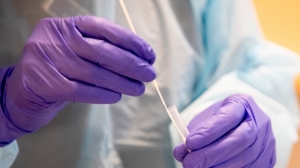 Georgia reported 1,527 coronavirus cases, 24 deaths, and 1,282 recoveries on Thursday, Berdia Sichinava, representative of the Interagency Coordination Council, said.
Georgian capital Tbilisi recorded the highest number of Covid-19 cases within the last 24 hours,710, followed by the Imereti region with 239 cases, and the Adjara region with 78 cases.
"As part of the intensive testing, 13,030 tests were conducted across the country in the last 24 hours, including 6,323 antigen tests and 6,707 PCR tests.
"The tests revealed 1,527 new cases of the virus in the last 24 hours. The total number of confirmed cases since the outbreak of the Covid-19 pandemic in the country amounts to 227,420. In the last 24 hours, 1,282 people recovered from the virus, and the total number of recoveries increased to 211,727. Unfortunately, we have 24 new cases of coronavirus deaths in the last 24 hours. A total of 2,505 people have died from the virus since the pandemic spread.
"Out of 1,527 new cases of infection detected in the country today, 710 cases were reported in Tbilisi, Adjara - 78, Imereti - 239, Kvemo Kartli - 63, Shida Kartli - 130, Guria - 24, Samegrelo - Zemo Svaneti - 108, Kakheti - 105, Mtskheta-Mtianeti - 47, Samtskhe-Javakheti - 14, Racha-Lechkhumi and Kvemo Svaneti - 9," said Berdia Sichinava.
By Ana Dumbadze
31 December 2020 11:04