Georgian Economy Shrinks 7.7% in November 2020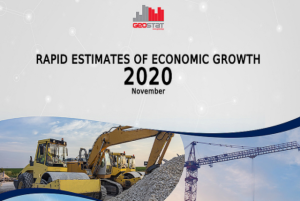 Estimated real Gross Domestic Product (GDP) declined by 7.7% in November 2020 YoY and by 5.9% in the first eleven months of 2020 YoY, shows the report by the National Statistics Office of Georgia (Geostat).
Based on the report, in November 2020 the estimated reduction compared to the same period of the previous year was posted in the following activities: Construction, Transportation and storage, Arts, entertainment and recreation, Accommodation and food service activities, Wholesale and retail trade; repair of motor vehicles and motorcycles.
Growth was registered in Manufacturing, Financial and Insurance activities, Information and communication, Water supply; sewerage, waste management and remediation activities.
"Especially noteworthy is the decline in the turnover of VAT-paying enterprises and the downward trend in the construction, transport and warehousing, hotels and restaurants, arts, entertainment, leisure and trade sectors. In November 2020, exports of goods decreased by 13.4% and imports by 12.1%. Regarding the 11-month total foreign trade, exports fell by 11.3%, while imports fell by about 16%," said Gogita Todradze, Executive Director of the National Statistics Office.
By Ana Dumbadze
31 December 2020 13:28