Coronavirus: Georgia Reports 594 New Cases, 3845 Tests Conducted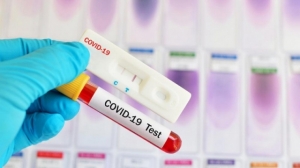 3845 tests were conducted in Georgia in the last 24 hours, including 2 199 antigen tests and 1 646 PCRs, as a result of which, the country reported 594 coronavirus cases and 25 deaths on Monday. 1 963 people recovered from the virus.
The Georgian capital Tbilisi recorded the highest number of case, with 226, followed by the Imereti region with 81 cases, and the Adjara region with 64 cases.
The total number of confirmed cases detected since the outbreak of the COVID-19 pandemic is 229,763, of which 222,405 people recovered and 2,628 died.
There are 386 people in government-assigned quarantine facilities, 4,209 patients are hospitalized, and 840 asymptomatic or mildly symptomatic patients are being treated at government-assigned treatment facilities.
By Ana Dumbadze
04 January 2021 11:50