President: No One Has Right to Overshadow our Historical Achievement, Tolerance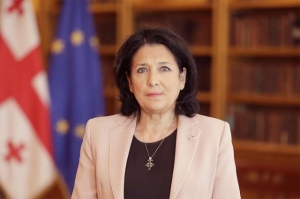 Georgian President Salome Zurabishvili has responded to the recent confrontation between members of the Christian and Muslim communities in Guria, in the village of Buknari.
"I would like to respond to the confrontation between our Muslim and Christian compatriots in Guria. This is a sad fact and I hope the situation will ease in the near future. Georgia has always been proud of its religious diversity. This is the wealth of our country, one of the foundations of its strength, which we have always been careful about.
"Freedom of religion is guaranteed by the Constitution. Religious services and rituals are the right of our citizens and no one can restrict them.
"This conflict is one of few cases, but it must be said that no one has the right to overshadow our historical achievements, to question the peaceful coexistence of religions in Georgia, tolerance, the unity and dignified coexistence of citizens of different faiths," reads the statement.
Today, the situation escalated at the rally in the Guria region, in front of Chokhatauri City Hall. Representatives of the Muslim community tried to enter the City Hall, but the police did not allow them to do so.
Members of the Muslim community were asking to be allowed to pray in a house which they had bought for worship. The above was opposed by the local Christian population. The confrontation occurred between members of the Christian and Muslim communities on this ground in the village of Buknari.
The Mayor of Chokhatauri explained that the confrontation between the Muslim and the Christian community is related to the place of prayer in one of the houses.
For the record, on January 12, an incident took place in the village of Buknari, Chokhatauri Municipality. One person was detained by the Ministry of Internal Affairs in connection with the incident. The MIA said the detainee used stones to injure the villagers.
By Ana Dumbadze
14 January 2021 17:55