Epiphany Marked in Georgia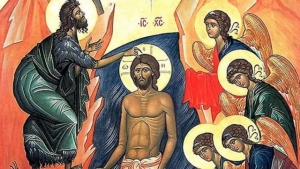 The Georgian Orthodox Church celebrated Epiphany (Natlisgeba) today, January 19, with a liturgy held by Ilia II, Catholicos-Patriarch of Georgia at the Holy Trinity Sameba Cathedral in Tbilisi, followed by a blessing of the water ritual in the Cathedral yard.
Epiphany is the day when, according to Christian beliefs, Jesus was Baptised in the Jordan River; revealing he was the son of God. In relation to the holiday, religious services as well as water blessing rituals take place in churches throughout the the country.
It is believed that on this day, the sanctified water acquires benevolence of the River Jordan and is kept throughout the year, and is not spoiled, unlike ordinary water. The Orthodox Church recommends drinking the sanctified water during ordeals and to help with ailments.
By Ana Dumbadze
19 January 2021 14:16