Namakhvani Hydropower Plant Project Launches a New Website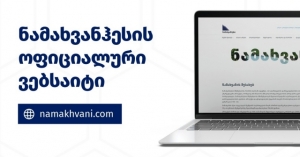 ENKA (ENKA İnşaat ve Sanayi A.Ş.), the company implementing the Namakhvami Hydropower Plant (HPP) cascade project, has launched a new website - www.namakhvani.com.
Along with essential information about the project, the Environmental Impact Assessment (EIA) report, the studies conducted by the international and Georgian experts based on which the EIA report was prepared, as well as the relevant permits granted to the project were granted, are available on the website.
"Namakhvani HPP is the largest investment project in Georgia today and, naturally, public interest is high. Our priority is to work based on the principles of transparency and make the information about the project available to our stakeholders. The new website will help us do so," stated Zeki Kocaoglu, General Manager.
Namakhvani HPP Cascade is a project of state importance, the purpose of which is to reduce the country's dependency on electricity import and enhance its energy independence. The project is being implemented with an FDI that amounts to up to $800 million. The annual generation of the 430-megawatt cascade will reach up to 1,500 GWh, which is equal to 11.7% of Georgia's total electricity consumption in 2019.
22 January 2021 17:34