EBRD Regional Director to Georgian PM: We Are Very Pleased with Cooperation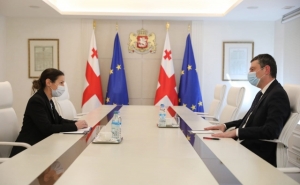 Giorgi Gakharia, Prime Minister of Georgia, met Catarina Bjorlin Hansen, Regional Director of the European Bank of Reconstruction and Development (EBRD) for the Caucasus today.
The PM expressed his gratitude to the EBRD for exemplary cooperation and noted that the European Bank for Reconstruction and Development is not only a good partner of Georgia, but it has made a pivotal contribution in the development of the country.
It was noted at the meeting that Georgia is one of the largest per capita beneficiaries of investments made by the EBRD. Its diversified portfolio covers a wide range of sectors, from energy to agriculture, including its exposure to the private sector of the country. These investments make a vital impact on the advancement of the national economy, especially during the COVID pandemic.
In the opinion of the Regional Director of the EBRD, excellent cooperation exists between the Government of Georgia and the EBRD, while the last year was the best in terms of deliveries.
"Last year was the best year ever in terms of delivery. We did more than double what we had in any year before. So, we are very pleased with the cooperation. Most of the work is done out of our office here in Tbilisi. So, we are fully functioning and very proud of the results. What we discussed today was the results of the last year, which were great; plans for this year and our Country Strategy, which we are currently working on for the next 5 years; and we discussed the upcoming virtual visit of the EBRD's newly appointed President Odile Renaud-Basso to Georgia. This will happen on February 1-2, 2021" Hansen noted following her meeting with the Prime Minister of Georgia today.
22 January 2021 18:17