Girchi Chairman May Ask for Right to Bear Arms for Self-Defense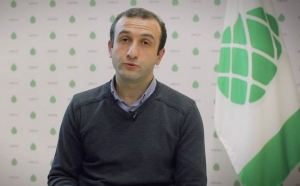 Chairman of the Girchi party Iago Khvichia today announced that he received what appeared to him a threatening call from the UNM Chairman Nika Melia.
Khvichia said that if he understood it right that Melia threatened him, he would use his right to bear arms.
"Nika Melia called me today. We had an unpleasant conversation. Unfortunately, I think he wanted to threaten me. Now I want to find out whether these were real threats, or perhaps Melia has an explosive temper in general", said Khvichia.
"Melia is physically bigger and stronger than me. As a Member of Parliament, I have the right to carry a weapon, if the circumstances threaten my well-being. If Melia confirms his threats towards me, I shall address the Parliament of Georgia to grant me permission to do so", Khvichia added.
Nika Melia has not yet responded to Iago Khvichia's statements.
25 January 2021 22:21