Majority Leader: Opposition Groups will Soon Form Factions in Parliament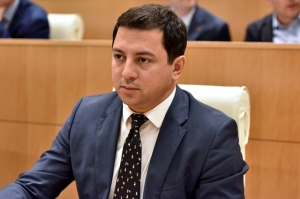 The time when opposition groups form factions in the Parliament will come very soon, the Chairman of Parliament, Archil Talakvadze, predicted at the sitting of the parliamentary bureau.
He noted that more representatives of the opposition should get involved in the parliamentary process, and they should be given the maximum opportunity to use the parliamentary instruments provided by the regulations.
Regarding the termination of parliamentary powers of opposition members, Talakvadze noted that the mentioned issue will not be discussed at the extraordinary session.
"Termination of mandates will not be considered at the extraordinary session, we have stated that we will use our time as much as possible to leave the door open for healthy opposition forces to join the parliamentary political process," he noted.
Talakvadze pointed out that the position of the government, the majority of the society and Georgia's international partners is the same - democracy means participation, and boycotting participation is incompatible with democracy. He added that the radical part of the opposition has lost the arguments related to the falsification of the election results and it is better for them to reconsider their decision to refuse their mandates.
Earlier, it was announced that the Georgian Parliament of 10th Convocation would discuss 51 members' requests to terminate their parliamentary mandates obtained at the 2020 elections on January 27-28.
Today, on January 27, the extraordinary session attended by 82 deputies was opened in the parliament.
During the extraordinary session, the deputies will discuss the legislative changes related to the introduction of the vaccine against Covid-19. They will also discuss the planned changes in the Rules of Procedure of the Parliament, which will affect the opposition MPs.
Today, the Parliament started discussing the draft amendments to the Rules of Procedure, on the basis of which the MPs without faction will have the right to nominate Vice-Speakers and Deputy Chairmen of the Committees with the quota of the opposition. In addition, with the planned amendments to the Rules of Procedure, the MPs without faction who are not the majority will have the same time during the parliamentary speeches as the one allotted to the faction.
By Ana Dumbadze
27 January 2021 15:22