Vake Park to be Closed for Rehabilitation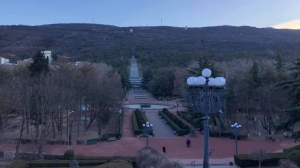 Vake Park, a public park in the central district of Tbilisi, will be temporarily closed due to rehabilitation works, Mayor Kakha Kaladze announced at the City Hall government session today.
He noted that due to the full-scale rehabilitation works, from this week, Vake Park will be completely closed
"Full-scale rehabilitation works of Vake Park have been launched. It is very important for us to renew and arrange recreational spaces. Many concrete steps have been taken in this direction and important projects have been implemented. This is a space located in the center of the city and we decided to renovate it. The important elements of this park, due to the status of cultural heritage monument, will be preserved and maintained," said Kaladze.
He added that before planning the rehabilitation of Vake Park, Tbilisi City Hall involved the local population in the process and took into account their proposals:
"At the stage of planning, we had active communication with the population, their involvement was quite high and they had a lot of interesting ideas that were considered in this project. The works should be completed by the end of the year. I am sure that after the rehabilitation, another good recreational space will appear in the city," said the Mayor.
The park was opened in 1946 and is located in the Vake district of Tbilisi at the western end of Chavchavadze Avenue.

A World War II Memorial sits at the top of the hill in the park.
By Ana Dumbadze
03 February 2021 12:12