'Melting the Ice': Restaurants No Longer Plan to Open on February 6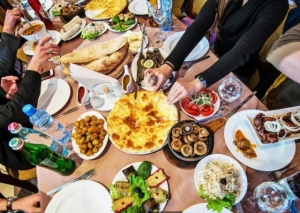 Georgian restaurateurs have reconsidered the opening of food establishments on February 6, despite the still-imposed COVID restrictions.
Shota Burjanadze, the founder of the Restaurateurs' Association, noted that they made this decision taking into account the move made by the government.
"Yesterday's decision of the government is to thaw the ice. We had announced the openings for Saturday, and were eager to receive guests. We have decided that this protest will not be held on Saturday, and we will continue to operate with the delivery service," Burjanadze said at a press conference at the Mtavari Media Center.
For the record, based on yesterday's decision of the government, from February 15, food establishments and restaurants will be able to serve customers in the open air. Prior to the announcement of the decision, the restaurants had announced a boycott against the coronavirus-related restrictions, and plans to open on February 6.
For two months, after November 28, restaurants across Georgia have only been able to work with "delivery service", and hosting a guest on the spot will be fined 10,000 GEL. From February 1 (except weekends) Batumi restaurants have been allowed to host guests in open spaces.
By Ana Dumbadze
Related Stories:
Some Restaurants to Open on Feb 6, Despite the Gov't Ban
Restaurants to Host Customers in Open Spaces from February 15
05 February 2021 10:58