'Disobedience March' Against COVID Restrictions Underway in Tbilisi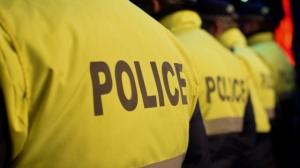 The participants of the so-called 'Disobedience March' gathered on central Rustaveli Avenue in Tbilisi are currently holding a rally against coronavirus-related restrictions in force across the country.
Civil activists claim that their main demand is the abolition of the so-called curfew and the removal of other existing regulations.
Representatives of various spheres, including politicians, are taking part in the 'Disobedience March' together with civil activists.
Demonstrators note that the coronavirus-related restrictions imposed by the government have political grounds and are not effective in terms of fighting against the pandemic.
In their assessment, the existing regulations aim to hinder political processes across the country. Further, they are destroying the economy and Georgian business sector.
Patrol police are mobilized on the spot to monitor the situation. Currently, they refrain from commenting whether they are going to fine demonstrators for violating the curfew in force from 21:00 PM - 5:00 AM.
Based on the decision of the Georgian government, the easing of coronavirus-related restrictions will be launched on February 8. However, the following activities will remain prohibited:
Transport, shopping malls, shops, fairs and restaurants will be closed on weekends;
Fitness clubs, swimming pools, cinemas, entertainment centers, bars, nightclubs will remain closed;
The curfew still remains in force between the hours of 21:00 and 05:00;
No intercity transport;
Large-scale ritual events (weddings, funerals, etc.).
By Ana Dumbadze
Related Story: Restrictions to be Eased from February 8: What Remains Banned
06 February 2021 21:13