Tbilisi Mayor: Square will be Built Near Sports Palace to Replace Old Houses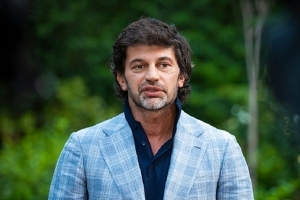 "The area around the Sports Palace in central Tbilisi is an example of how not to develop a city; it is an example of urban genocide," Tbilisi Mayor Kakha Kaladze said at today's government meeting.
He spoke about a new project being implemented by City Hall in order to improve the situation in that location, noting that a public recreational area would replace the old houses located on Tkvarcheli Street in the vicinity of the Sports Palace.
Kaladze noted that City Hall has reached an agreement with the owners of the houses, and had agreed to provide the families with residential space in another area, while 1,500 square meters will be used by the municipality.
"We are starting to demolish these houses and arrange a small square instead, where locals will be able to relax and walk with their children, as, presently, there is no such project nearby; no square, no park for the people living there. There is not even a sidewalk for people to walk on normally. There are only poorly planned roads, which is a problem. Accordingly, this particular space will be used to build a square for people living there to relax. Residential blocks cannot and will not be built on this particular territory," Kaladze explained.
He suggests establishing a new strategy in terms of protecting the environment, within the framework of which more recreational areas will be added to the city.
The project will be implemented by the Saburtalo district administration.
By Ana Dumbadze
10 February 2021 14:10