Georgia's Prime Minister Resigns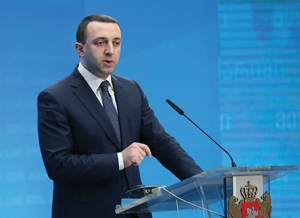 Georgia's Prime Minister Irakli Garibashvili, one of youngest state leaders in the world, resigned after three years of ruling the Georgian government.
"Nothing is forever except the Lord and the homeland," Garibashvili said during his televised speech, which was closed to media.
"I was honored to be part of a team which carried out many changes and reforms in favor of the country," he said while confirming his resignation.
Garibashvili did not name his successor, however local Georgian TV stations released information stating that Giorgi Kvirikashvili, the country's Vice Prime Minister and Minister of Foreign Affairs, will replace Garibashvili following his resignation.
There are no clear reasons for the PM's resignation. Garibashvili presented his government's three-year Progress Report only two days ago and enjoyed his team's success on Georgia's visa liberalization with the EU last week.
Garibashvili entered politics with his long-time associate, Georgian tycoon and former Prime Minister, Bidzina Ivanishvili, in October, 2012. Garibashvili also served as Minister of Internal Affairs from 2012 to 2013.
Ivanishvili named Garibashvili as his successor as Prime Minister when he voluntarily stepped down in November, 2013.
At 33 years old, Irakli Garibashvili is the 2nd youngest state leader in the world after Kim Jong-un.
Tamar Svanidze
24 December 2015 19:14