As Always, the Best Gift is a Book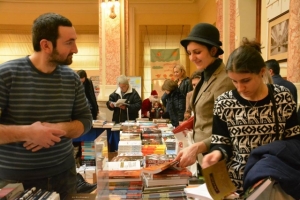 Book festivals are becoming more and more popular in Georgia, which is I dare say one of the most pleasant fashions that modernity brought to us Georgians.
Earlier, it occurred only once, somewhere between the spring and summer.
Yet this is already the second year that it has been held twice – and the second fiesta coincides with the pre- Christmas and New Year period, thus carrying even more festive hue.
It was held at the end of December at the Georgian National Library, in a most appropriate classical atmosphere which raised high interest amongst members of the public.
The organizer of the New Year's Book Festival was the Georgian Publishers and Booksellers Association. The main novelty was the atmosphere adapted to children - a kids' corner where they could listen to fairy tales, paint and have a good time while their parents were buying and enjoying the nice environment, as well as a number of entertaining activities.
"There is a growing interest from readers towards the Tbilisi International Book Festival," Gvantsa Jobava, Chairwoman of the Association said. "It was awaited with excitement from year to year. Therefore, the idea came to us to establish a second festival. Moreover, we decided to set a tradition of presenting a book as a gift. On the first day, we revealed the year's Georgian best-sellers. The main criterion was that the winning authors be Georgians, as a demonstration of our aim to promote the national literary process."
The winners in the aforementioned nominations were: Gela Charkviani's book 'Nagerala' in which he writes his memoir (Gela is father of Irakli Charkviani, a popular singer, melodist and poet who died several years ago, leaving an extremely interesting creative inheritance), the book of a young writer nicknamed Toressa Mossi titled 'Me/you are Christ' and renowned Aka Morchiladze's 'Remote by 100 million Pounds.'
Bloggers were also awarded: Tornike Chelidze who promoted Georgian literature in one of the non-Georgian language regions of Georgia, Ana Gergedava, who opened an educational center in Tsalenjikha region, and blogger Molly Bloom, who was rewarded for support to the Georgian publishing sector and promotion of Georgian literature. These nominations are characteristic only for this festival.
Giorgi Kekelidze, Director of the Georgian National Library told Georgia Today: "It is important to host this festival in many ways: firstly, the library is a place associated with books, therefore, it is very good that the respective festival is being held here. Secondly, there was a summing up of the annual literary harvest. Moreover, the great number of attendees proved that it is not unreasonable to hold two or more book festivals per year. Thirdly, the books are purchased as gifts, and a very beautiful tradition is being set up."
The festival, together with the above-mentioned events, also offered a number of presentations and lectures.
It was a venue for many new translations of world classical books, including Marcel Proust, Elfriede Jelinek for 'Piano Teacher,' according to which Michael Haneke's respective film starring Isabelle Huppert received the Palm D'Or, and others.
Georgia Today also spoke with Levan Berdzenishvili, philologist, who held the lecture on the last day of the event titled "Literature as a Capital": "Literature is a capital because literature is not mere property, or mere knowledge. It is knowledge that must be invested in, as literature is the main source of living.
It is a capital in two ways: businessmen should know literature in order to be able to invent something new. Secondly, ordinary citizens should know literature in order to stay alive and search for immortality.
There is nothing but literature that feeds one's fantasy. A writer sacrifices his own life for others to live. He/she dies and the readers live.
Nowadays, readers are the main figures in literature, as the latter are those who 'bake' the 'dough' given by the author."
"It is an interesting festival. Most of all, I liked the Diogene stand," Natia Gabrichidze, one of the readers who visited the festival with her children, told Georgia Today.
There was a presentation of children's magazine 'Armarium'. If we compare it to the spring festival, the latter is bigger, however, I like such occasions so much that I'm happy to have a second such event, even more so in the high pre-Christmas mood with the children's corner and Santa. I attended this Fair with pleasure and will do so again in the future."
We believe that a lot of people will receive interesting novels, poetry and translations as Christmas gifts this New Year- a guaranteed pleasant surprise, something they will be able to enjoy again and again! Cheers to the new tradition! Cheers to new books for Christmas and New Year, and wishing you marvelous literary journeys in 2016!
Maka Lomadze
02 January 2016 14:42