Deep Freeze Hits Georgia as First Snow Falls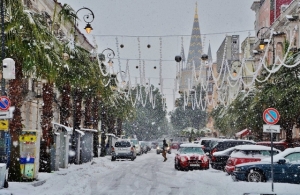 Heavy snowfall brings New Year's spirit to Georgia.
Snow began to fall on New Year's Eve in Batumi, Georgia's coastal city, where it reached half a meter today. The snowfall did not create any traffic problems thus far.
According to deputy director of Batumi City Hall's Cleaning Service, around 200 service employees are working on roads.
"The roads have been cleaned. All emergency facilities are operating without any obstacle. Twenty-five vehicles are involved in the clean-up efforts," Tedoradze said.
The Road Department of Georgia imposed restrictions on several roads, mainly in the country's mountainous regions.
A major restriction was placed near the Rikoti Pass, which connects Georgia's western parts with the east. Drivers of trailer trucks and semi-trailer trucks are prohibited from using the route. The route is open to other traffic.
The snow caused problems, not only to traffic, but to the electricity supply as well. In western Georgia's Adjara region, dozens of villages were left without electricity as snow reached over one meter in some areas.
Official weather forecasts said the temperature would harshly drop, on January 3rd.
According to the National Environmental Agency, at night, temperatures will decrease to -12 degrees in eastern Georgia's low lands, to -16 degrees in the mountain and to -23 in the high mountains. As for Tbilisi, the temperatures will be -8 degrees.
An official weather forecast also warned citizens for frozen roads and electricity lines.
Photo: Alexander Lapshin
03 January 2016 12:24