More than 5 Million Foreigners Visit Georgia in 2015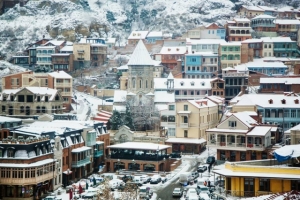 Georgian tourism is once again on the rise as the latest statistics show that the number of foreign visitors has increased.
Around 6 million international arrivals were registered in Georgia since January 2015, the Information-Analytical Department (IAD) of the Ministry of Internal Affairs has announced.
According to data, 5 897 685 people crossed the Georgian border during the previous year. This is an increase of 7% over the same period of 2014.
"The growing number of visitors (tourists, one-day visits and transit) to Georgia is important for the further development of the country's tourism sector, as well as for increasing the inflow of foreign money," the IAD said in a statement.
In total about half a million people visited Georgia in December 2015, which is 7 % increase to compare the same period of the last year.
According to the MIA statistics, 155,048 were tourists (6.2% more than in 2014), 89, 141 were transiting (2.2 percent more than in 2014) and 221,773 people came for other purposes (9.6 percent less than in December, 2014).
In December alone most visitors came from Armenia an increase of 3.8%. Turkey is second (+1.8%), followed by Azerbaijan (4.6%), Russia (+13.3%), and Ukraine (10.3%).
A positive tendency is also seen in connection with EU countries, with an increasing number of arrivals to Georgia from January-December period. The following countries lead: Italy (15%), Lithuania (13%), Latvia (13%) and Germany (10%).
The number of arrivals to Georgia from Belarus saw a 51% increase, the United Arab Emirates saw an increase by 675% and Saudi Arabia an 80% increase. Visitors from Israel increased by 40% and from the USA 10% more visitors visited Georgia in December.
Photo: Georgiaabout
04 January 2016 13:44