Cigarette Prices Increase in Georgia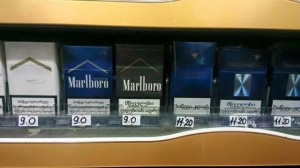 Prices of certain categories of cigarettes increased in Georgia yesterday, following the Parliament's approval of a bill on increasing excise tax on cigarettes and alcohol on December 11th.
Georgia's Finance Ministry says excise tax increase has no direct link with the increased price of some type of cigarettes; instead, the price increase is related to an imbalance between supply and demand.
Following the New Year, prices on several types of cigarettes were considerably augmented in Georgia.
The bill approved by the Parliament with 73 votes involves increasing the tax by 0.20 Lari on filtered cigarettes, and by 0.05 Lari on non-filtered cigarettes.
In addition, the excise tax is expected to be increased on Whiskey, Rum and Gin, and other alcoholic drinks in the near future.
04 January 2016 13:58