Alilo, Christmas Celebration Procession to be Held in Tbilisi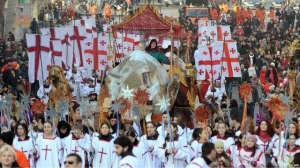 Traditional Georgian Alilo, celebrating Christmas Day (Kristeshoba) will begin tomorrow from 14:00 in Tbilisi.
Every year people take to the streets in order to take part in the procession called Alilo, and bring gifts for the needy as well as each other.
The walking procession will begin in Rustaveli Avenue, move through Liberty Square to the Assembly of Tbilisi where Mayor Davit Narmania will meet people and give them sweets.
After that the participants will continue through Pushkini and Baratashvili Streets to Elene Akhvlediani Street until they reach the Presidential Palace.
The procession will finish at Sameba, the Holy Trinity Cathedral of Tbilisi, where the Catholicos- Patriarch Ilya II will bless the participants in the Christmas procession.
Members of the clergy lead the procession bearing icons, crosses and banners. Children receive and give sweets, chocolates and more.
After the procession people return to their homes and continue celebrating Christmas day. Foods, sweets will also be given to children's homes and shelters for the poor.
Christmas Day (Kristeshoba) is one of the most important Georgian holidays and has been celebrated since the 4th Century.
Nina Ioseliani
06 January 2016 18:41