A Constructive Merger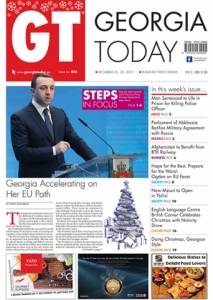 OPED

The great English Language is making confident and vigorous strides into the life of our beloved Georgia. The nation is starting to speak English – slowly but unquestionably. One of the surest corroborations of this statement lies in the fact that our people – not just our foreign guests and friends – have started reading the English-language press and listening to the English-language broadcast media. The newspapers GEORGIA TODAY and GEORGIAN JOURNAL have been good and functional media for many a long year. Having been competitors in the most progressive and businesslike meaning of the word, they competed respectfully, but never hated or wronged the other as often happens in the complex and vitriolic business world. As we well know, the marketplace has strict rules that usually dictate business behavior in general. It was exactly the dictate of the market and a healthy decision of Georgia's businessmen that resulted in the smartest merger in the brief entrepreneurial history of this country: GEORGIA TODAY and GEORGIAN JOURNAL have now merged into one bigger and better publication, retaining the famous title of Georgia Today. Functionally, the newly renovated and revitalized edition will continue its main job of keeping the nation and the world informed on everyday happenings. Politically, it will promote our chances of integration into Euro-Atlantic structures, and in the long run, it will stimulate the creation of a cohort of Georgian journalists, writing in English, which should be extremely important for securing Georgia's Western image and future. I have not seen a lot of business mergers lately in Georgia, but this one is very special because this particular niche in the Georgian media space has now been filled by the edition of great prospect. GEORGIA TODAY has always been a well-liked publication, and it will enjoy even more popularity from now on. If there is anything that this country needs more in order to get across local problems and philosophy of life to the rest of the world, you could certainly count this English-language biweekly which has now reinvented and repowered itself in this constructive and extremely practicable merger. Congratulations and cheers to every side of the merger and to the wonderful team of journalists who are going to keep up the good job they have been doing to date, and will continue to do in the future, strongly believing in the golden and most meaningful journalistic motto ever: Facts are sacred, comments are free. This nation truly needs to have a newspaper like this, and it has it indeed. Bilingual existence is Georgia's destiny, and it needs careful and attentive treatment. Ignoring this historical exigency is not a good idea. Every single wasted day could result in an enormous social, political and economic loss. This is why the role played by GEORGIA TODAY, refreshed as it now is, is truly significant, and tomorrow it will even be more so.
Nugzar Ruhadze, a Georgian journalist and interpreter, was born in Tbilisi. He graduated the Foreign Languages Institute in the faculty of English Language. At various times he has lived and worked in Egypt, England, and the United States. When Mr Ruhadze returned to Tbilisi he worked in the Georgian Foreign Ministry as head of the Protocol Department, but did not cease to engage in journalism. Following a creative assignment in the United States, he returned to his homeland with invaluable experience and here organized a radio program of English lessons for children and founded English-language newspaper Georgian Journal.
EDITOR'S NOTE:
Georgia Today would like to welcome Mr Ruhadze to the Georgia Today team and to congratulate him for his long and much-loved service in writing and education. It is with great pleasure that Georgia Today publishes his 424th newspaper article and looks forward to many more wise words from him in future.
Nugzar B. Ruhadze
06 January 2016 20:15