Victory Partnership Alliance Brings Christmas to Families of Wounded Georgian Soldiers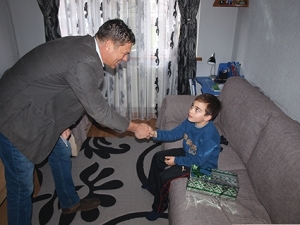 On January 5th, the Victory Partnership Alliance (VPA), Volunteers from VPA, the Georgian Rugby Union, and C4iD visited ten families of Georgian soldiers wounded during the mission in Afghanistan and Iraq to give Christmas gift baskets for families in Gori and rugby balls and toys to the children. The gifts were given personally by Sean Mulcahey, the Founder and CEO of VPA, Alexander Japaridze, Country Director, and Army Rugby Club captain David Daushvili.
"This was a really great experience," Sean Mulcahey said during the visit. "It demonstrates how the partnership approach can deliver a positive impact at low cost. We are very grateful for the contributions of all the volunteers, especially the wounded soldiers themselves."
The project was funded through contributions made to VPA. In the project, all participants were volunteers, which allowed 100% of the donated funds to go directly to the families. Additionally, the Rugby Union provided balls and shirts to the families. The festive spirit shared during the event made it especially rewarding.
"We have met with more than 50 organizations from all sectors of society over the past several months and nearly all of them have expressed a desire to work together in partnership to improve the lives of wounded soldiers," Mulcahey said. "This is just the beginning of creating a better future in Georgia."
Victory Partnership Alliance is an independent non-profit organization registered in Georgia, designed to advocate for and conduct activities to support and enrich the lives of wounded Georgian soldiers and their families and assist them with the challenging task of reintegrating back into society as productive, proud citizens of Georgia.
Meri Taliashvili
06 January 2016 20:30