Georgia Opens Its First Tech Park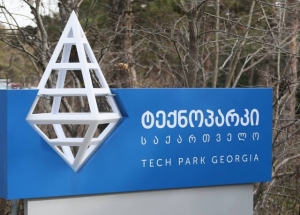 Georgia opened its first tech park in one of the suburbs of the capital city, Tbilisi.
Georgia's Prime Minister Giorgi Kvirikashvili together with the Vice Prime Minister and Minister of Economy, Dimitri Kumsishvili, attended the opening ceremony in Okrokana.
Representatives of the Georgian government, diplomatic corps and international organizations attended the event as well.
According to the Ministry of Economy and Sustainable Development, the first tech park was built by the Innovations and Technologies agency, LEPL.
The park creates a united ecosystem for innovations and technology, and promotes development of innovative ideas.
"This is a space for unique possibilities, as well as the formation of future professions and platforms for expanding the innovative market," Kvirikashvili said.
The park is aimed at developing small and average-sized enterprises. It also creates possibilities for founding offices for international companies in Georgia and attracting foreign investment.
"It will complete a special role in terms of business development, creation of new business and companies as well as new jobs," Kvirikashvili said.
The center is equipped with small incubators, learning centers and laboratories, as well as large offices for companies. It also includes joint work places and recreational space.
An accelerator will function in the park. There will be training centers and showrooms, a co-working center, conference hall and many other services that promote the development of a high-tech industry.
11 January 2016 20:51