American Musician Chris Botti Asks Fans Vote Zaza Pachulia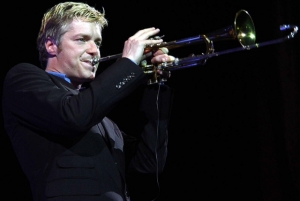 American trumpeter and composer, Grammy winning Chris Botti, who performed in Georgia yesterday, called on his Facebook followers to support Georgian basketball player Zaza Pachulia in the competition for the NBA All-Star Game.
In the Facebook status he mentioned that his 'good friend' Zaza Pachulia, who is currently having a stellar year, is in the running to make the NBA All Star Team this season.
"We'd LOVE it if you vote for him. It's easy, it's quick, you don't even need to leave your app. Just post the following line in your favorite social media app(s). #NBAVOTE Zaza Pachulia. If we (yes all of us) can get him into the top 5 he's automatically in." the post said.
"So, one of the things we love about Tbilisi and our Georgian friends in general is how welcome they make us feel every time we come here. Every Georgian person we know seems to know every other Georgian person we know... no matter where in the world we are. The Georgian people have ALWAYS been supportive of us and we'd love to return the favor," he added.
Photo: Interpress
16 January 2016 12:38