Books Donated to Penitentiary Libraries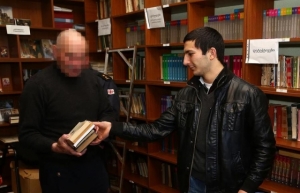 The initiative group Borjomi Volunteers donated books to the N15 and N19 Tuberculosis Treatment and Rehabilitation Penitentiary Institutions of Ministry of Corrections. The action is part of the program Georgian Volunteers carried out by the Ministry of Sports and Youth Affairs.
The the local community collected 476 Georgian and Russian books and gave them to the libraries for the inmates of the N15 and N19 Georgian penitentiary establishments.
According to Borjomi volunteers' coordinator George Oganesian, mostly young people joined the initiative.
"We think this kind of activity contributes to raising the level of education and to the socialization of prisoners," said Oganesian.
The initiative may collect books for other penitentiary facilities in the future as well.
16 January 2016 13:42