Georgian Glass to Be Exported To Italy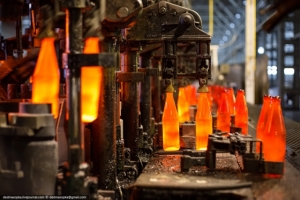 Thirteen different types of glass produced in Georgia are to be exported to Italy. A Georgian glass company in Ksani has signed agreements with the three largest mineral water-producers in Italy.
The Georgian glass factory was visited by the experts of the Italian company Societa di Santa Aerallba in order to carry out quality control and monitoring of the production process.
At the initial stage, in total, 25 million bottles are scheduled to be transported to the Italian market, and this figure is planned to increase in the future.
Bottles for export were created with a special form and material, exclusively made for the Italian mineral water company, which targets the high-income segment. Both international and local professionals developed the design of the bottle.
Deputy Minister of Economy and Sustainable Development, Ketevan Bochorishvili, stated that the signing of the Association Agreement with the EU has contributed to this new export deal.
"Within the framework of the Association Agreement we have a free and comprehensive trade regime with Europe. This is an example of the results we expect. More entrepreneurs will be able to get their products onto the EU market after meeting the appropriate quality standards," said Bochorishvili.
Georgian glass products are currently exported to Turkey and Azerbaijan. The Ksani glass works company is currently employing 280 people and producing more than 60 thousand tons of glass products for the local and export market.
Ana Akhalaia
19 January 2016 01:30