Partnership Fund Discussing Construction of Energy Efficient Block Factory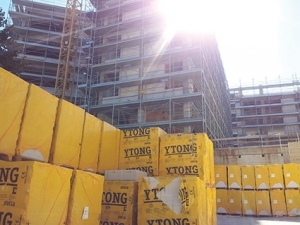 Plans for an energy efficient block factory are being discussed by the Partnership Fund which is working on the project with Georgian company Ytong Caucasus and German company Xella.
Construction of the factory is planned in Tbilisi. According to the project, construction of the factory should be completed by the end of 2016, while the first certified production is scheduled for early 2017.
The Ytong energy efficient Air-Bloc is produced for construction purposes. It is a high-tech innovative product which meets international standards of construction and is completely environmentally friendly, as proven by certificates received from various European institutions.
According to the obtained license, products will be sold in Georgia and also exported to Azerbaijan, Armenia and southern Russia.
According to Chief Investment Officer of the Partnership Fund's Investment Department, Nino Cholokashvili, the Ytong energy efficient block has a number of advantages compared to other construction materials. The thermal conductivity is five times better than the concrete block and it is also much lighter which makes it possible to significantly reduce the number of fittings used in the construction of buildings and significantly speed up the process of construction.
"The important factor is that the necessary raw materials for production of the Ytong Air-Bloc are available in Georgia. The project is also attractive in terms of the high heat-insulation of buildings built, through which it is possible to significantly reduce the utility costs for heating and cooling," Cholokashvili said.
The project investment is worth USD 13.5 million. The project is currently under discussion and negotiations are ongoing between the partners.
Ana Akhalaia
19 January 2016 01:07