BP Allocates $150 million to Upgrade Baku-Suspa Pipeline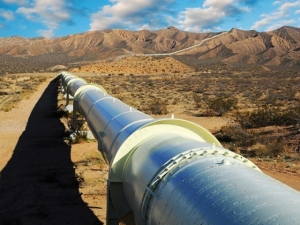 British Petroleum (BP) one of the world's 'supermajor' oil and gas companies is set to allocate $150 million for the modernization of certain parts of the Baku-Suspa Pipeline and improvement of ecological standards.
Details of the project were discussed by executive director of BP Robert Dudley and Prime Minister of Georgia Giorgi Kvirikashvili, as part of the Davos World Economic Forum.
This was the Georgian PM's first official meeting at the World Economy Forum, which takes place in Davos.
Kvirikashvili and a small Georgian delegation departed for Davos yesterday to participate in the Forum's 46th edition.
Dudley provided the Georgian delegation with detailed information regarding projects that are being carried out in Georgia by BP.
BP's Executive Director emphasized that the project concerning the construction of the South Caucasus Gas Pipeline is being implemented, schedule allowing, and will be completed around 2018.
Around 2000 people are employed as part of the project.
The Baku-Suspa Pipeline, also known as the Western Route Export Pipeline, is a 833 km long oil pipeline which runs from the Sangachal Terminal near Baku to the Suspa terminal in Georgia. The BP operated pipeline transports oil from the Azeri-Chirag- Guneshli field to Georgia.
The oil transportation from the pipeline was stopped in 21st October 2006 after abnormalities were revealed during an inspection.
Preparations for the pipeline's construction started in 1994. On March 8th 1996 President of Azerbaijan Heydar Aliyev and late President of Georgia Eduard Shevardnadze agreed on the establishment of the Baku-Suspa Pipeline.
The total cost of construction of the pipeline and terminal was $556 million.
21 January 2016 12:35