Solidarity Fund Investor Ozturk Agrees Further Collaboration with PM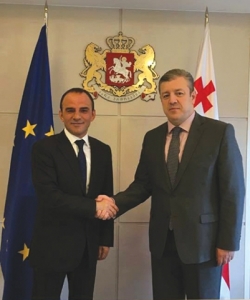 Georgian PM Giorgi Kvirikashvili met Galip Ozturk, businessman and the founder of J.S.C. Metro Atlas Georgia. During the meeting, discussions focused on investment projects Mr Ozturk has been carrying out in Georgia. PM Kvirikashvili gave his special thanks to Mr Ozturk for his kind deeds and promised him the government's absolute support in such activities. The businessman donated 500,000 GEL to the Solidarity Fund for the second time, the first being in 2014, enabling the Fund to save the lives of many children and young people with oncological disease.
"The meeting ended successfully. We, both sides, presented our opinions and agreed on future collaboration for Georgia's well-being," Galip Ozturk told GEORGIA TODAY.
Meri Taliashvili
21 January 2016 21:57