New Executive Chef of 5 star Hotels & Preference Hualing Tbilisi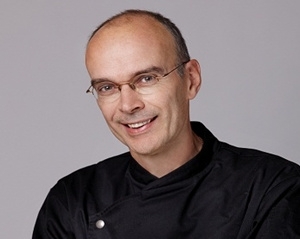 Franck Vallat is a French chef with a rich background working in the leading restaurants all around the world, including Restaurant Le Mazarin in London, known as a Michelin star restaurant. Three years ago, the chef got adventurous and decided to take on the challenge of a completely new country. He was fully involved in pre-opening and opening proses of a number of high rank hotels in Georgia's regions and from October 2015 joined the team at Hotels & Preference Hualing Tbilisi, a 5 star property near Tbilisi Sea. Now he is the Executive Chef of several restaurants in the hotel and ready to lead yet another in the near future. GEORGIA TODAY met Franck to talk about the menu, challenges of running a kitchen and how to best serve guests the quality cuisine they expect.
Among the various Food & Beverage outlets in the hotel, Be CHIC All-Day dining restaurant provides guests an extensive menu with dishes from all around the world. Why did you decide to focus on international food?
An international menu is a big opportunity to meet the needs of guests from every country. Hotels & Preference is a huge 5 star hotel and we have to be open to everyone. We have pasta, pizza, chicken ballotine, foie grass, and salmon in the French style, various burgers and some Asian food. Moreover, we have paid a lot of attention to selecting the dessert menu. We also have a special invited pastry chef from Malta who is in charge of making the most delicious desserts. However, there are guests who come to Georgia wanting to try local food. In 'Be CHIC' we also have a Georgian chef and the majority of our staff is Georgian, all of whom know perfectly well how to cook their national dishes. Even during big events such as weddings, our guests always ask for national cuisine.
How do you find products for non-Georgian dishes? French cuisine for one requires specific ingredients.
Right, and finding products it is big problem in Georgia. It's difficult to find exactly what you want for international cuisines. And when you do find what you need, the prices are often crazy. However, we manage to source a number of local products that allow us to still produce Authentic European dishes and the final result will taste the same.
Chinese restaurants are very popular in Georgia now, and Hotels & Preference Hualing Tbilisi also has one.
That is right. Our Chinese 'Ensemble' restaurant is in demand among our foreign guests and locals as well. Here you can enjoy authentic dishes from different regional of China, prepared by our mastered team of nine chefs.
The quality of food is important to any restaurant, especially those belonging to hotels. What are the main aspects of good and tasty dishes?
If we talk about our restaurants, then quality of products and talented chefs, of course, are important. However, executive chefs and managers also need to pay attention to organization, planning and timing. I suppose some are keen to prepare ingredients and dishes in advance, even a day or week before needed. I dislike this way. We never do this in Hotels & Preference. Food should always be fresh and most dishes should be prepared on the day of consumption. Moreover, as our hotel is a French brand of an International hotel chain; it must meet all international standards and more so in the preparation and quality of the food we serve.
You are also a manager in the kitchen. What do you focus on besides food preparation?
The main thing is the menu – I really care about it. I wasn't here when the Hotel first opened and so I had to start work with an already completed menu, but that does not mean it's fixed. We adapt it according to the best-selling dishes, add something new, and we also depend on the product. As I already had working experience in Georgia, I know what products we can get; I can vary and change, improve and renew the menu all the time. If our guests asked to be cooked something special, even if it does not exist on the menu, we will do it. The only thing you need to do is let us know in advance- we are ready for any test. It is a 5 star hotel and we always meet the desires of the client.
Another important aspect is food presentation. We have many different shapes and sizes of plates; we know how to place food to make it even more attractive – important for a high ranking restaurant. Even typical Georgian dishes are served in our own style, sometimes making the food look more European. We train our employees to do this. We hold a different training for them each month to improve their skills in every field. Since the majority of our staff is Georgian and they are really good at making national dishes, they must then learn to do more, for example, make French sauce – we teach them.
Besides the 'Be CHIC' and 'Ensemble' restaurants, Hotels & Preference Hualing Tbilisi also offers other café-bars.
The Hotel offers a 'Be COSY' Lobby Lounge Bar, a perfect chill out place with a wide choice of cocktails, various coffees and soothing music, as well as our 'Be Pure' bar in our recreation area, near the pool. Moreover, I am happy to announce that soon we will open a Sport Bar "Legends" for sports-lovers. Food there will be typical for these occasions, like burgers and fried chicken wings. Currently, we are working on the menu and a design guaranteed to surprise. We will open it in June, so we will be ready for UEFA European Championship 2016.
Eka Karsaulidze
21 January 2016 22:03