Tskaltubo Resorts as New Investment Field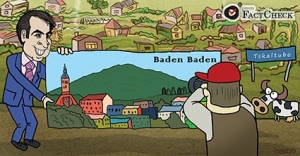 Company KBP Tbilisi has announced the construction of a new 5 star hotel on the site of the famous sanatorium Meshakhte in Tskaltubo. Indian investors such as Unique Mercantile India and Apna Punjab Resorts also showed their interest in the construction of hotels in different parts of Georgia, including Tskaltubo. The Georgian Government actively talks about the importance of the return to Tskaltubo the rank of main health resort, which it had previously.
The town of Tskaltubo, which is located in western Georgia, 7 km from Kutaisi and 250 km from Tbilisi, was one of the most popular resorts in the former Soviet Union. Its thermal waters are still used to treat diseases like asthma, angina pectoris, hypertensive disease, and pneumonia Neurosis. A number of sanatoriums continue to operate today, yet there are still many large Soviet complexes which are in need of restoration to preserve the unique architecture, ideal for investors and developers.
During a tour in Tskaltubo in April 2015, former Prime Minister of Georgia Irakli Garibashvili highlighted the uniqueness of the town, claiming it incomparable even to well-known resorts such as Baden-Baden and Karlovy Vary. "Tskaltubo needs huge investment and the Partnership Fund has already studied Tskaltubo's development plan. Several foreign companies are already interested in it. I'm sure it has all possibilities to become one of the best health resorts, not only in our region but also in Europe," noted Garibashvili.
The World Bank (WB) also assessed the potential of Tskaltubo positively, in its 2012 Second Regional Development Project for Georgia funding that potential with USD 37.50 million. The WB paid attention to infrastructure, services and institutional improvement capacity to support the increased tourism in the local economy of the Imereti region, and Tskaltubo in particular.
The former government of Georgia made the first steps in development and, during their time, several sanatoriums began to be transformed into new hotels; however, the constructions were stopped. One of them was the Meshakhte sanatorium, which now belongs to KBP Tbilisi, and in December 2015, they announced the construction of a new 5 star hotel there.
Although it is as yet unknown which world brand will operate the hotel, the Company assures that the building will retain its original façade. It will be designed for 100 rooms, and its halls, amphitheater and library will be fully restored. The investment will total approximately USD 40 million and all repair work will be completed in 2018.
"This sanatorium was first opened in 1951 and was considered as one of the most beautiful buildings in the world," Zviad Zviadadze, London-based owner of KBP Tbilisi, told GDS TV. "Naturally, we will keep its unique architecture and we want it to be not only a hotel, but also regain the function of a cultural center."
Tskaltubo as a whole has the potential to become a new cultural and tourist center of Georgia. Nearby are the International Airport in Kutaisi, which receives a large number of international flights every day; important tourist sites like Sataplia with dinosaur footprints, and the Prometheus Cave, rated one of the best in Europe.
Moreover, next to Meshakhte another famous sanatorium Iveria was put up for sale – the Ministry of Economy and Sustainable Development of Georgia entered it for auction on January 25 with a starting price of 250 thousand Lari. According to the terms, the new owner will have to transfer the building into an at least 160-room hotel, which will include a minimum of two conference halls and a restaurant, within 24 months.
Eka Karsaulidze
Photo: Factcheck.ge
25 January 2016 21:41