Georgian Railways Warns Pedestrians Due to Weather Conditions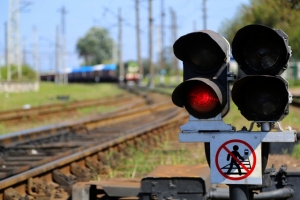 Georgian Railways notified drivers that railway stations, passenger platforms, railroad crossings, railroad tracks and all other areas related to train traffic are hazardous.
The decision was made following yesterday's railway accident, where a middle-aged man died after being hit by a train while crossing the tracks in Akhalsopeli, a village in western Georgia, Guria region.
Today, Georgian Railways a released statement asking citizens to only cross in only specially designated areas to prevent injuries. Citizens can safely cross the railroad by foot bridges, tunnels, underpasses and specially arranged crossings.
Crossing tracks in forbidden zones and beyond special zones, violates paragraph 5 of article 106 of the Georgian Code of Administrative Offenses and results in due sanctions.
"Following the first offense, the citizen will be warned. In case of a second offense, the citizen will be fined 10% of their salary. In railway stations without bridges or tunnels, a pedestrian must cross the railway track in the place that is marked by a "Crosswalk", the statement said.
According to the statement, before crossing, the citizen must make sure no train, locomotive or wagon is approaching on the railroad. The citizen must wait until the approaching train has passed and make sure a train is not approaching on the second track. When crossing the railway track, the citizen must look at the traffic light, listen to the voice signal and determine the state of the level crossing gate.
The railroad may be crossed when the level crossing gate is open. If there is no level crossing gate in the railroad crossing zone, the citizen must make sure that no train is approaching the crossing zone and only after that he/she is able to cross. It is categorically forbidden to cross the railroad when the level crossing gate is closed. It is banned to go beneath stopped wagons. It is also banned to walk along the railway tracks within a 5 meter distance.
It is inadmissible to walk on bridges and tunnels without special paths for pedestrians. It is categorically banned to cross the railroad without signs.
Georgian Railways urges pedestrian citizens to cross the railway tracks in only special crosswalks by protecting all regulations.
26 January 2016 17:05