EBRD to Finance Tbilisi Public Bus Upgrade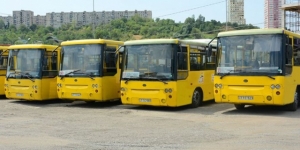 Tbilisi City Hall is applying for a loan from the European Bank for Reconstruction and Development (EBRD) financing expanding the City's fleet of public buses.
According to the agreement, City Hall will buy 175 public buses with a total estimated cost of up to EUR 40 million equivalent in the local currency.
The Invitation for Tenders follows the General Procurement Notice which was published on the EBRD website on September 30, 2015.
Tbilisi Transport Company applied for a loan from the Bank and intends to use part of the proceeds of the loan towards the cost of Tbilisi Bus Project.
The open tender closed in November 2015 and City Hall will sign the contract with the winning party in February 2016 if they receive the loan from EBRD.
City Hall wants the first buses, at least 70 units, to run by the end of June 2016.
"When responding to this General Procurement Notice, the companies shall advise their production/ supply capabilities and confirm whether they could deliver the required quantity of the first consignment or state how many buses they could realistically deliver within the specified time. All tenders must be accompanied by a tender security of EUR 700,000 or its equivalent in a convertible currency," the website said.
After the Rose Revolution, Tbilisi municipality decided to reform the public transport management system which EBRD supported. In July 2005, the EBRD lent EUR 3,1 million to the Municipal Auto Transport Company Ltd, which is wholly owned by Tbilisi Municipality.
Through the project the municipality purchased 150 buses, spare parts and workshop equipment. The municipality also reformed the regulatory framework for public transport in Tbilisi.
The government hoped the modernization of the bus fleet would decrease traffic congestion, increase traffic safety, improve air quality and reduce emissions. Fuel efficiency requirements would comply with the European Union's environmental standards for urban buses.
Since the EBRD supported purchase, the yellow minibuses have become the face of the Rose Revolution for the Government.
29 January 2016 21:00