Georgian Sweets Firm Aims for European Market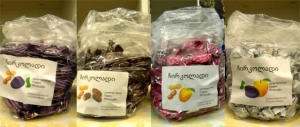 Georgian sweets company Chirkoladi hopes to enter the European market in the coming years.

The company has employed a Dutch consultant who will help Chirkoladi export to Europe.

"We've invited a Dutch instructor who will help us in terms of production and export to the European market. This will take time, but we are working on it," said the company's founder, Gocha Kupreishvili.

The company's main product line, also known as chirkoladi, is a mix of dried fruit dipped in chocolate. The company's sweets are produced using dried fruit from local farmers.

The company's production facility is located in Bagdati, a small city in Georgia's western Imereti region.
05 February 2016 21:32