Bag Manufacturer Gepherrini to Open in Tbilisi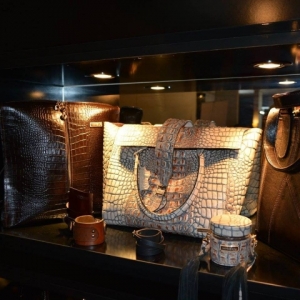 Georgian bag manufacturer Gepherrini is to open on Pekini Street, Tbilisi.
According to the company's founder, Ilia Gepheridze, this will be the biggest shop of the brand.
Gepherrini already has six stores in Georgia and one in Moscow and is negotiating with Germany and Ukraine for export possibilities. According to the founder, several small companies have expressed their interest and are currently reviewing the company's products.
Gepherrini took part in Tbilisi Fashion Week in October 2015, where influential buyers arrived and personally reviewed the Georgian designer's Spring/Summer 2016 collections.
The company was founded in 2014 and produces bags for men, women and children. They also produce travel bags and all-natural leather bracelets. Gepherrini only uses high quality materials and accessories for their products.
"We have plans to produce leather belts, wallets and leather cover office equipment. We pay great attention to high quality, also taking into account customer feedback and advice," says Gepherrini's website gepherrini.ge.
One of the main hallmarks of the company is that they produce only a small number of models to avoid saturating the market with identical products.
Initially, released products had a guarantee of up to 1 month, which can be increased by up to 1 year with a warranty. Prices range from 23 GEL to 360 GEL.
08 February 2016 15:01