Georgian Coffee Company Cherie Introduces Instant Coffee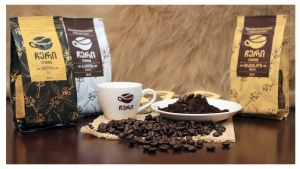 Georgian coffee company Cherie introduced two kinds of instant coffees Cherie Classic and Cherie Gold to the market. According to the company, these products already have a customer approval and pretty good sales.
Cherie products are sold in the network market. Cherie Gold is in granules and Cherie Classic is sublimated in 100-gram glass jars. Prices are targeted to the average segment and are 8.50 and 5.60 GEL at this stage.
Cherie LLC, established in 2012, is the largest supplier of freshly roasted coffee in Georgia. It is the first Georgian company to introduce industrial coffee production.
Cherie LLC offers Georgian customers 100% natural and freshly ground coffee. The process begins with the import of fresh green coffee beans with shelf-life of up to 2 years. These beans are then carefully checked for quality before being put through the cleaning process. The beans are then roasted, ground, packaged and distributed throughout Georgia.
The Cherie LLC factory is modern and is equipped with the very best German manufactured machinery for roasting, grinding and packaging. Moreover, the internal quality control and procedures are strictly carried out to European standards, so the quality of our products is similar to the quality of products in, for example, Italy or Germany.
The CEO and founder of Cherie LLC is Mr. Irakli Lomtatidze. The company now employs more than 60 people.
08 February 2016 16:06