Georgia's Economic Council Discusses 2016 Priorities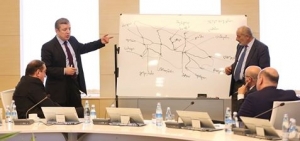 TBILISI – Georgian Prime Minister Giorgi Kvirikashvili on Friday discussed with the country's economic council plans to accelerate infrastructure projects and a financial support scheme for business startups and activities in 2016.
Kvirikashvili urged the Regional Development and Infrastructure Ministry to minimize the terms for project elaboration and to ensure the swift construction of strategically important highways.
One of the main talking points of the meeting was a proposal aimed at fostering new business projects and entrepreneurial activities in the country.
Cultural Minister Mikheil Giorgadze stated that open concert venues will be built in the country's regions with the hope Georgian and foreign artists will begin performing at the sites as early as the coming spring.
19 February 2016 14:51