Third Meeting of Business Cafe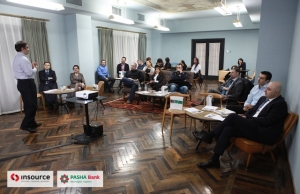 TBILISI- Consultancy Company Insource continues Business Café meetings with exclusive sponsorship of PASHA Bank.
The third meeting of the project was held in Rooms Hotel, Tbilisi, On February 17th. Representatives of top management of the leading Georgian businesses attended the session on "Management 3.0 or MBA Books in Mirror" led by Andro Dgebuadze.
The first meeting of Business Café was held in October, 2015 and its subject was "The management of human resources" moderated by David Gogichaishvili. The second meeting was hosted by Alexander Jejelava who spoke about the organizational corporate culture.
There is a rising interest towards Business Café gatherings as they give a good opportunity to top-management representatives from different companies to discuss specific work-related topics and share experience with each other in informal atmosphere.

Insource plans to hold 6 Business Café meetings with exclusive support of PASHA Bank in 2016.
Advertising
19 February 2016 11:42