World Class Bankers to Head TBC Capital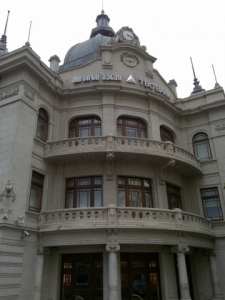 TBC Bank has appointed Levan Shanidze and Avtandil Gigineishvili as managing directors to co-head TBC Capital, an investment banking arm of TBC Bank offering Corporate Advisory, Research and Brokerage solutions in Georgia.
Both, Shanidze and Gigineishvili are highly experienced professionals, each with 20 years at global investment banking institutions in London and Hong Kong.
Avtandil Gigineishvili, former Managing Director and Head of Asset Management at Jefferies International in London, initially a key member and subsequently leader of the team who build a successful business managing $3 billion assets for institutional and retail clients in Europe and US. Throughout nearly 20-year long track record navigated several critical periods in the market and was involved in every aspect of the business development and operation from the start. Before that he served at Jefferies International Limited as a Research Analyst, producing global convertible bonds research and generating trading ideas for the international equity-linked desk. Avtandil Gigineishvili has MBA from Tulane University (New Orleans, LA) and a B.Sc in Electrical Engineering from the Georgian Technical University (Tbilisi).
Levan Shanidze served as a Managing Director at Silverhorn Investment Advisors in Hong Kong before joining TBC Capital where he managed a flagship macro fund. Prior to taking asset management responsibilities he held various capital market positions in Hong Kong at Nomura, Lehman Brothers, JP Morgan and Jardine Flemings. His roles included building equity derivative business, heading India equity trading, proprietary trading with global coverage among others. Levan holds a Master of Business Administration in Finance and Corporate Accounting from the Simon Graduate School of Business Administration, University of Rochester, USA, and a B.Sc in Biophysics from the Tbilisi State University, Georgia.
TBC Capital is committed to playing an active role in the development of capital markets in Georgia and supports both institutional and strategic investors in exploring investment opportunities in Georgia while at the same time giving access to additional forms of financing to domestic companies – currently dominated by traditional bank loan financing.
TBC Capital was established in 1999 and provides services tailored for the Georgian market.
Its Parent company, TBC Bank is the leading financial institution in Georgia, listed on the London Stock Exchange (LSE: TBCB LI).
29 February 2016 18:54