From Journalism to Vampires, a Local Fiction Translator Tells All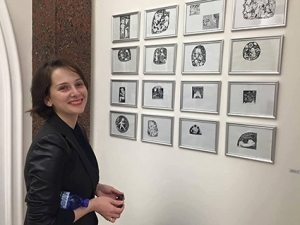 Ana Chichinadze is a former TV, radio and press journalist who has now turned her hand to translating some of the most popular fiction from English into Georgian. GEORGIA TODAY spoke to Ana to find out more.
How did you end up a translator?
I studied communications management in the Netherlands, at the Dutch campus of the American Webster University and returned to Georgia to work on a major movie project (George Ovashvili's Corn Island) as a production coordinator and communications manager. After two years of unimaginably hard work and the successful premier of the film, I decided to move towards doing what I longed for - translating fiction.
So you always knew you wanted to be a fiction translator…
Since I started reading (at the age of 7) I mostly enjoyed foreign literature, fiction in particular, and I've always thought that translators were the coolest people in the world (Ok. One of the coolest). Even though I chose to study journalism, I've always kept thinking about translating. A couple of years ago, I decided to seriously give it a try. I sent a couple of pages of my translation of Daphne du Maurier's 'Rebecca' to Sulakauri Publishing House. Luckily, they approved it and I was given my first ever novel. It was K.R. Davies' Blood Omen ('Vampire Wars' in Georgian).
WHICH HAS BEEN YOUR FAVORITE BOOK TO TRANSLATE AND WHY?
Blood Omen! Because it was my first ever translation and it was my first ever vampire book and because it's just cool. It's like a thriller, with a lot of action and, when translating it, I felt like I was really part of the story, right in the middle of the plot. Strange, isn't it?
Name some of your most recent projects
My latest translation is the first book of Vampire Diaries, which is also the first ever translation in Georgian and will probably be published very soon now. Now I'm working on the second book of the same series and looking forward to getting my hands on the third part of the Blood Omen (my translation of Book 2 was released last year).
You're gaining a reputation as 'The Vampire Translator of Georgia'. How do you feel about that?
It's a lot of fun. The emotions, comments, excitement and longing coming from the teenagers and young adults who are expecting or have already read my translations are so fulfilling. It makes me immensely happy to see that "kids" enjoyed each book and are waiting for more. First of all this means that they will keep on reading other books and genres and that they're already hooked on reading and learning through books. It also shows me that they found the translated text smooth, easy to understand and relevant to their language – so my mission is accomplished.
That said, I do hear the occasional "when are you going to get serious?" and people expecting me to translate Milton or something, something heavier and more classical. But it's not fair at all, because I don't think it's right to label books as serious or less serious. If a person enjoys a text, it means it gives him/her something, at the very least good vibes, thoughts about love, friendship and relationships, or a sense of the values of life. What else do you need a young adult to think about?
At times I feel like I'm a bridge to what young people, the new generation, wants to read now. I get to experience what teenagers all around the world get excited about and it feels very fresh and cool and very up to date.
What is the most challenging thing about translating?
Finding the right tone to the story, sensing the writer's attitude and translating it into another language accurately. It's also a challenge to keep the characters sounding exactly the same in a totally different type of language. It's also important to keep balance and stay neutral and think about what the author wants to say, not what you think would look best in a certain chapter or scene.
How do you see the book market in Georgia for translated books?
Considering the fact that books are not cheap in Georgia, it's nice to see people still buying them with a lot of enthusiasm, especially teenagers, students and young adults- in particular translated literature. Georgian readers are very keen on readying everything new, fresh and popular, something that is still warm, just out from the large publishing houses in the USA. The readers are making their own requests of the local publishing houses, which is an amazing thing. I think that keeps the business going in such a turbulent financial situation as we have here now.
As for e-books, the number of online readers is still quite low, even though e-books are much cheaper to buy.
How do you see the book market in Georgia for teen (vampire) fiction?
I think vampire fiction owns a relatively small segment in the local market as yet, because it's still new, but growing. As for general teen fiction, I remember crazily long queues at the Biblus shops when 'Geek Girl' was first published and it wasn't the only such case. Modern Georgian teenagers are just awesome.
You obviously have a creative voice. Have you ever tried writing anything of your own?
Well, I have tried. But I don't really have time for it at the moment. I have two major stories developing and I add a few chapters to both of them occasionally. My dilemma is that I write both in English and Georgian and some chapters are in English and some are in Georgian. A big mess, as you can imagine. And no, it's not vampire fiction.
03 March 2016 17:37