A Likely Gamble: Mestia, Svaneti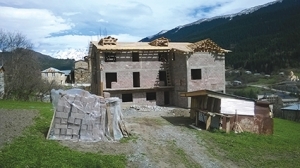 I don't go to Mestia much at the moment, as my car's in need of some repairs and most of our shopping is best done lower down, where things are quite a bit cheaper. But when I do find myself there, if I have time I always try to catch up with old friends from my years in Svaneti and especially from the school year my wife and I spent there before moving to Etseri.
Our main hosts there were Vitia Chartolani and his wife Roza Shukvani, who run Roza's guest house. I have written about them here several times before, about how wonderful our months with them were and the lasting friendship we have made with their very kind family.
This last visit was a few weeks ago, my first opportunity to see how their new venture is coming along. Roza and Vitia have decided to expand, in a big way, by building their own hotel in Mestia. The guest house has done well, growing in popularity and success year after year, and this is a logical next step.
It's one which must put quite a lot of stress their way, I would think, judging by the scale of it: a three story building with more than twenty bedrooms, most with ensuite bathrooms, as well as a restaurant and a separate sauna. Nice piece of land, with good views of the town and surrounding mountains, no possibility of the immediate views being blocked. Some fruit trees going in too, for shade, and patio seating as well as some really nice large windows from the restaurant via which to sample those landscapes.
I have also written about a certain well-renovated large hotel in the town, which though beautifully done was a major disappointment on more than one occasion in terms of service. I complained, not in angry tones but to say, You need to know that this type of thing will only hurt your PR, so please improve it. I don't expect that Roza and her people will have similar issues with their venture, as they were unfailingly superb in serving us and making us feel at home. This, I think, has been a huge reason for their rise to the top in Mestia's fiercely competitive hospitality business of the last few years since Saakashvili first rolled in for business.
This article isn't just a plug for some of my favorite people in Mestia. It's to say that they believe that what they are doing can be not only successful but also meaningful. It can affect the mood and atmosphere of the whole place, inspiring others to dare, hiring quite a number of other people in construction, finishing, service, interpretation, guiding, and so on. My wife and I felt the same about our little shop experiment in Etseri; about which more soon.
Now, when Mestia is without the attention of Saakashvili and his frequent, highly energetic visits and renovation projects, when many people are indeed wondering what will happen next- parilamentary elections in the fall, big ramifications- Roza and Vitia are saying, We will push forward with our dreams. Not that we need to become millionaires, but we've found something we're good at and have a passion for. I can only agree with them and wish them every success, because I expect that their flourishing will indeed have a positive effect on the whole of Mestia. Go for it!
Tony Hanmer runs the "Svaneti Renaissance" Facebook group, now with over 1300 members, at
www.facebook.com/groups/SvanetiRenaissance/
He and his wife also run their own guest house in Etseri:
www.facebook.com/hanmer.house.svaneti
Tony Hanmer
05 May 2016 19:29