6 Tbilisi Protestors Detained During Anti-Panorama Rally
TBILISI - Six people were arrested Saturday while attending a protest against the Tbilisi's controversial Panorama development project.
City Council member Alexander Elisashvili and Guerilla Gardening founder Nata Peradze were among those detained by local police.
Four of the detainees were released immediately by the municipal court threw out their cases. The others remain in custody and refuse to enter a plea. A second court hearing for the two is set for Tuesday.
Around 150 activists gathered near the Tbilisi's Botanical Gardens. The activists had gathered to protest a controversial urban development project out forward by the country's former prime minister, eccentric billionaire oligarch Bidzina Ivanishvili.
The initiative calls for the construction of a luxury hotel complex on 29 hectares of protected land near the grounds of the historic 19th-century garden.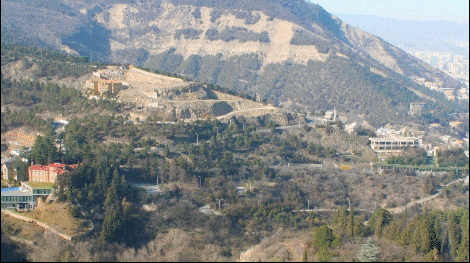 Police attempted to block the rally when activists tried to enter the area zoned for the proposed project. The authorities said they shut down the protest as a precaution, claiming the activists had come too close to the Panorama construction site.
Tbilisi's city prosecutor has opened a criminal investigation against Peradze for allegedly damaging a police car, assaulting a policeman and resisting arrest. Peradze has also been accused of narcotics possession, though her drug test was negative at the time of her arrest.
Elisashvili and two other activists were ordered to pay a fine for resisting arrest.
By Eka Karsaulidze
Edited by Nicholas Waller
Photo from liberali.ge
10 May 2016 16:12