Believe's 3rd Annual Charity Gala a Huge Success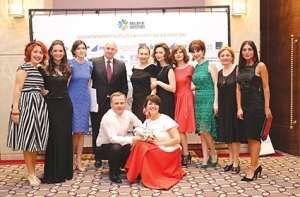 On June 25th, the business community of western Georgia came together to support Believe's annual Charity Gala event and help socially vulnerable and disabled children and adults. This special one-night benefit gala took place at 7pm at Hilton Batumi Hotel.
Over 200 guests from various local and international companies enjoyed an evening of dinner and entertainment, featuring a live performance by Tbilisi Big Band lead singer Mariko Ebralidze and an auction conducted by Auctioneer-extraordinaire Mr. Cliff Isaak - Honorary Consul of Canada in Georgia, with artworks by prominent Georgian and foreign artists. Supporters and patrons helped to raise GEL 104,449.18.
Since 2014, every summer, Believe Foundation organizes a Charity Gala Dinner for the benefactors of the Foundation. The primary aim of the charity event is to support disabled and socially vulnerable children and adults.
Believe Foundation is a non-profit, non-political independent organization established to support charitable, cultural and educational activities in western Georgia. It is committed to bringing positive changes, improvements and progress to the lives of socially vulnerable children, elderly and families, individuals with disabilities and youth. With the support of its donors and volunteers it strives to protect the rights of beneficiaries; facilitating their integration into society; caring about their health; fighting to overcome hunger and poverty. Believe helps them to fulfill their potential, enhance their professional skills and helps to give them an educational foundation.
The Gala night also included raffles sponsored by: Hilton Batumi, Radisson Blu Batumi, Radisson Blu Iveria, RBS Travel, Tako Dvalishvili, Georgia Palace Hotel, Retail Groups Georgia, Social Enterprise IKORTA, KARACA Georgia, Sheraton Batumi, PRIME Hotel, and others.
Charity Auction artworks, jewelry and sports memorabilia were donated by Nino Chakvetadze, Gigisha Pachkoria, Tamar Gugunava, Elene Gamgonidze, Grigol Ghvania, Tatia Kintskurashvili, Kakhaber Baramia, Beka Jokhadze, Irakli Kekelia, Gia Baratashvili, David Badzaghua, Lasha Beraia, Iulia Sorokina, Gia Markozashvili, Tite Shekiladze, Natia Ochigava, Anna Vishnevskaya, Gabriela Proksch, Dimitri Basilaia and Zurab Zhvania.
Believe Foundation thanks and proudly acknowledges its major sponsors and supporters:
Gold Sponsors: Bank of Georgia, PACE Georgia, AGRICOM, Channel Energy.
Silver Sponsors: MSC Georgia, SATNO Company, Barwil Georgia, Hilton Batumi.
Bronze Sponsors: Caisa, Cautrex, Prime Concrete.
Corporate Table Sponsors: CMA CGM, Caucasus Metal Terminal, Polzug Intermodal, Iceberg, B&P, Transford.
Partners of the event: International Chamber of Commerce, International Investors Association, Aldagi, BDO, Coca-Cola, DHL, GIFme, Fortuna plus, Radio Harmonia, The Ninth Wave TV, Alex Kvashilava Photography.
Katie Ruth Davies
30 June 2016 21:43