South Ossetia's Rebel Government to Issue Coins Honoring Soviet Heroes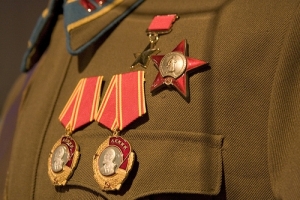 TSKHINVALI, South Ossetia – The National Bank of Georgia's breakaway region of South Ossetia plans to issue silver and gold coins with images of Heroes of the Soviet Union, Russian news outlet Sputnik Ossetia said.

The bank's head Felix Zaseyev said the coins would feature Giorgi Khetagurov, a Red Army commander during the Russian Civil War; Army General Issa Pliyev, best known for his role as commander of the Soviet Union's strategic rocket forces in Cuba during the October 1962 Cuban Missile Crisis; and Hajji Umar Mamsurov, an ethnic Ossetian and general in Joseph Stalin's feared NKVD – the forerunner of the KGB – who is credited with founding the Soviet Union's special operations military intelligence units known as Spetsnaz.

Mamsurov is also known for having run the Soviet Union's clandestine intelligence operations during the 1936-39 Spanish Civil War, where he reportedly met famed American author Ernest Hemingway.

South Ossetia first minted commemorative coins in 2013 to mark the rebel republic's fifth anniversary of Russia's recognition of its independence.

Commemorative events and imagery glorifying the Soviet Union are common in South Ossetia, which still maintains an intelligence unit known as the KGB. Fed by a constant diet of Russian propaganda, pro-Moscow – more precisely, pro-Soviet – sentiment in the region is widespread.

Rebel groups closely aligned to the Kremlin and who opposed the breakup of the Soviet Union fought a bloody war against newly independent Georgia's fledgeling government forces in 1991-92.

Russian and secessionist forces routed Georgia's poorly armed military and has operated as a Kremlin-backed puppet state for the last 25 years.

A brief five-day war between Russia and Georgia over South Ossetia in August 2008 killed hundreds and drove thousands from their homes after Moscow's massive invasion force came within an hour's drive of Georgia's capital Tbilisi.

Formal relations between Tbilisi and Moscow have been frozen since the Kremlin recognized South Ossetia and Georgia's other Russian-occupied region Abkhazia as independent states.

International law and the United Nations continue to state that the regions remain parts of Georgia.

Russia continues to violate a 2008 ceasefire agreement by maintaining a massive military presence in both Abkhazia and South Ossetia by basing thousands of occupation forces in the two regions.

By Tamar Svanidze and Nicholas Waller
17 August 2016 16:41