New Wiretapping Scandal Rocks Georgia Ahead of October Elections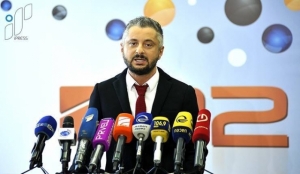 TBILISI – The release of a taped conversation between the Director General of Georgia's Rustavi 2 TV Channel Nika Gvaramia and the leader of opposition party State for People Paata Burchuladze caused an uproar in the Georgian capital Wednesday.
In the secret recording, Gvaramia is head telling Burchuladze that he is dissatisfied with Burchuladze's partners in the State for the People Party-Girchi bloc, as the latter prefer to be in a coalition with the Georgian Dream (GD) party.
Burchuladze is later heard in the recordings denying the claims.
According to Gvaramia, the moment when Burchuladze says he has no loyalty to the GD or the main opposition United National Movement (UNM) party was cut out of the conversation.
Gvaramia believes the conversation was illegally recorded and released by the State Security Service as part of its clandestine eavesdropping program.
The State Security Agency denies any links with the recording.
Burchuladze's party has admitted that the conversation took place, but insists that nothing illegal was discussed
"The only scandalous thing is that State Security Agency continues to spy opposition leaders and independent media," said Davit Jandieri from Burchuladze's party.
Georgia's presidential administration also commented on the issue, saying the state's security apparatus is violating privacy right by illegally wiretapping Georgian citizens.
"Eavesdropping, distributing and circulating any private conversation to the public is unacceptable. These actions go beyond the pale of any legal norms," Mishveladze said at a special briefing.
Several members of the Georgian Dream coalition have accused Gvaramia and Burchuladze of staging the incident in the run-up to the October 8 parliamentary elections.
According to the Georgian Dream member Irakli Sesiashvili, the conversation confirms that Burchuladze's party is a front for the UNM.
The UNM has steadfastly denied the accusations and accused the State Security Services of launching a smear campaign against opposition parties and the independent media.
"The fact that the State Security Agency continues to wiretap an opposition leader and independent media boss are more than concerning," Sergi Kapanadze from the UNM stated.
Georgia's Ministry of Internal Affairs has launched an investigation into the incident but has yet to release any details.
By Thea Morrison and Nicholas Waller
15 September 2016 09:19