NGOs Condemn Attack on Tbilisi Transgender Woman
TBILISI – Georgia's non-governmental Organizations (NGOs) have condemned an attack on a 32-year-old transgender woman, who was stabbed in the neck and brutally beaten by two men in Tbilisi's Ortachala region on Friday.
The victim is currently in critical condition after sustaining major injuries to her neck and face.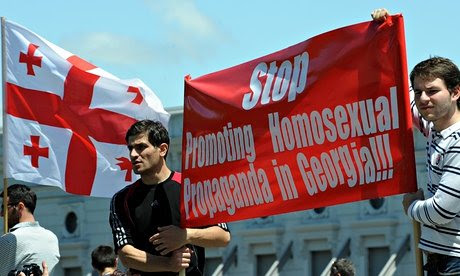 Local police have opened an up a criminal investigation, saying those charged with the assault will be tried for attempted murder.
The NGOs were quick to point out that the incident is only the latest case of physical abuse and discrimination against Georgia's LGBT (lesbian, gay, bisexual, transgender) community.
"Fundamental defects in the justice system, and the absolute non-existence of equality laws in Georgia country have created an environment of impunity and transformed the LGBT community as the most marginalized social group in the country," the statement of the NGOs reads.
The NGOs held a protest rally outside the Ministry of Internal Affairs on Sunday and demanded that the attackers be charged with hate crimes, though no specific legislation currently exists in Georgia.
Public Defender Ucha Nanuashvili said his office would look into the matter and determine if the victim was specifically targeted for being a member of the LGBT community.
"Unfortunately, in most cases, hate crimes are not taken into consideration during investigations…what is troubling is how ambiguous and incompetent the investigative methods are when dealing with a case like this," Nanuashvili's statement reads.
Nanuashvili has called on the Government to introduce a law that would make it easier to prosecute alleged hate crimes.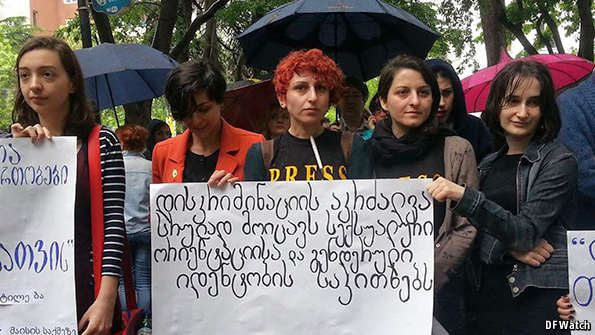 The Internal Affairs Ministry said on Sunday that an unidentified 30-year-old man was arrested in Rustavi, south of Tbilisi, who they claim is connected to the case.
The last three years has a seen a major spike in the number of assault cases against LGBT community members, leaving dozens injured.
A mob of hundreds of Orthodox priests and church activists attacked a small group of people who were staging a protest against homophobia in May 2013. The incident occurred when members of Georgia's LGBT community and their supporters obtained a permit to hold a vigil on the steps of Tbilisi's old parliament building.
The Orthodox priests and anti-gay activists attacked the rally with chairs and other weapons, leaving dozens injured.
In November 2014, a 23-year-old transgender woman Sabi Beriani was murdered and set on fire in her apartment. The Tbilisi City Court found her attacker not guilty but sentenced him to four years in prison for beating a second transgender woman the same evening.
The attacks have contributed to Georgia's worsening image abroad.
The views of Georgia's Orthodox Church and many members of its deeply conservative society often closely adhere to the line advocated by Russia, which has passed highly controversial laws on banning information about "non-traditional sexual relationships" to minors.
In recent years, the Georgian Orthodox Church and far-right conservative elements of society – including the pro-Russian Alliance of Patriots led by Irma Inashvili that was just elected to the incoming parliament - have condoned and encouraged attacks on sexual minorities.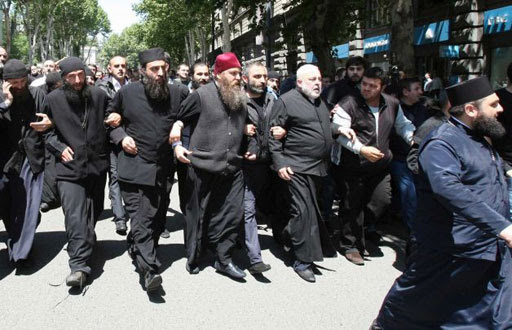 Despite sharp criticism from the European Union and civil society, the ruling Georgian Dream party has vowed to amend the constitution and define marriage as between a man and woman
The incidents have severely strained relations with the EU as Georgia pursues Euro-Atlantic integration.
Brussels has demanded that the Georgian government do more to protect the rights of the country's minorities and women to meet international human rights standards.
By Thea Morrison and Nicholas Waller
17 October 2016 19:23