First Electric Vehicle Charging Stations Open in Tbilisi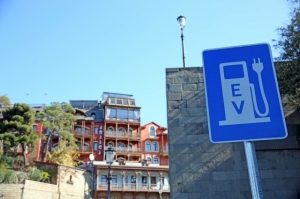 TBILISI - Electric Vehicle charging stations will now be available in Tbilisi on Europe Square and near the KusTba (Turtle Lake) turn in a project initiated by E-space and Tbilisi City Hall.
"With the current project they seek to promote energo-effective initiatives in the city," said Irakli Likvinadze, Tbilisi Mayor Deputy. "Tbilisi City Hall provided territory to E-space free of charge in both locations and will also cover electricity expenses for the stations. Ongoing negotiations with City Park will hopefully make parking for electric cars free in the near future. We will support any initiative that addresses the issue of making our city environment better," he added.
There are currently around 50 electric cars in Georgia and importing such vehicles into the country is tax-free.
By the end of the year, 100 more charging stations will be installed, not only in the capital but also throughout the regions.
By Nino Gugunishvili
07 November 2016 12:49